Some information about myself and my family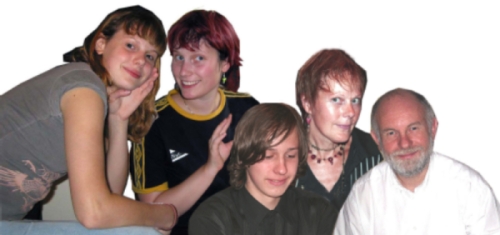 From left to right: Siri, Line, Njård, Ragnhild and me

My name is Svend Olav Aagedal, I was born in 1953 in the sign of Leo, and I live in Droebak (Heer) about 30 km south of Oslo.
My original hometown is Kristiansand (on the south coast of Norway). I was born in a part of the town named Lund, so I am a real "Crow from Lund" ("Londskraage" in Norwegian - that's what they call a person from that part of the town).

Therefore, of course IK Start is my favorite football team (called soccer team in the US), and I'm a proud member of their supporter club Tigerberget.

I now work as a Controller in the Church City Mission in Oslo.
For some reason I was chosen among several other applicants. I started in my new job March 10 2014 and I must say:
I support everything this wonderful organization is doing. I've really become a Church City Missionary (without having the exact same belief)!
...and all those wonderful colleagues. I'm not able to express how much I do appreciate the way they have included me. I'm very thankful that I've been given the opportunity to work in this kind of organization.
I hope that, in some point in time - not too far ahead, that I will deserve my income.

I was until end of 2013 (at least formally) employed by IBM, where I have been (though with 2 'interruptions') employed since 1978. I was, during my last years in IBM, working on internal projects related to financial applications, and since October 2008 I was involved in a worldwide internal SAP-project. Very exiting!!

My main interests are music, reading books and politics (in addition to PC related activities in general and especially playing Myst type adventure games..)
In addition to listen to music I'm playing some instruments, like Tenor saxophone, Guitar, Piano and Mandolin.
I'm playing only at home and for my own amusement (as I'm self-taught on these instruments - and not too clever), but I'm not playing too often and I guess I could have improved a little bit if I was more eager to practice...

I'm also a member of the choir Droebak Mannskor. We call it "the best gang in Droebak".

Now I've also started (again) to engage myself in politics ("again" because I was engaged in politics more than 40 years ago). I've now become a member of the Green Party. There I've met some very positive and dedicated people! I will work in a group that will discuss and write a proposal for the program (for our local community) for the local election that will take place in 2015.

In my nearest family there are 4 persons (in addition to myself):
Ragnhild (Ra) (all letters pronounced. The 'a' like the 'a' in car and the 'i' like the 'ee' in feel.)
Line (all letters pronounced. The 'i' like the 'ee' in feel and the 'e' like the 'e' in send.)
Siri (all letters pronounced. Both i's like the 'ee' in feel)
and
Njård (all letters pronounced. The 'å' like the 'a' in small)
I'm married to Ragnhild (Sodeland). She is also from the same town (which I say to to be kind to her - she was born in Hamar, and lived at the very north part of Norway during her first years).
Ra, which is my personal nickname for her, is for the time being not in a regular job (due to some illness), but she has, during the last years, completed several courses in art painting at Nydalen Kunstskole. I'm very proud of her, and I (personally) love many of her paintings.
She is also an eager (and clever) photographer, and she has often some of her photos printed in the weekly supplement to our local newspaper.
She has created her own Homepage where you can see some of her photos and also some photos of her paintings.
In October 2014 she had her first (separate) exhibition with her paintings at Oslofjorden Kunstsenter in Droebak!
The exhibition was very successful.
She is, of course, also the proud supporter of IK Start and a member of their supporter club Tigerberget.
Line is my oldest daugther, born in 1982 (from my first marriage - see note below). She lives, together with her husband (Lars) and their son (Theo), in the town of Drammen (26 miles from here). She is employed by Ariel Foto, where she is making school albums (small books with pictures of all the students and teachers) based on photos and text delivered from the schools.
..also a supporter of IK Start. I believe it was her who managed to increase the interest for this team within our family. Good work!
Theo was born in April 2013 and he is, so far, our only grandchild.
Siri is my youngest daughter, born in 1988. She is now working in a central government ministry in Oslo.
Together with her fiancee she has bought a flat/apartment in Oslo (her fiancee, Haavard, will finish his studies at the University in Trondheim in spring 2015. He will then start working in Oslo). As from late December 2014 he will be living together with Siri in Oslo while finishing his studies.
...Siri is also a supporter of IK Start though not as involved as some years ago.
Njård is my son, born in 1991, and is the only one of my children living with us for the time beiong (after a couple of years in Trondheim: but how long will that last?).
..still a supporter of IK Start and a member of their supporter club, but he is even a bigger fan of Liverpool FC.
About my first marriage:
I'm still married, believe it or not, to my first wife, and I have no plans of changing that fact. Thus Line has the same mother (as the 2 other children), and hopefully also the same father..